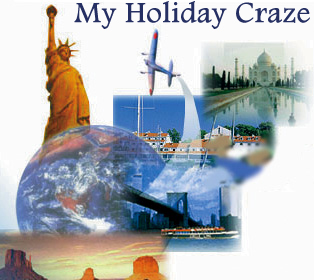 Welcome
It gives us immense pleasure to welcome you at My Holiday Craze. Here we sell you world's most precious thing and that is Happiness, yes... you learnt right!!!
So... what's say?
We sell Happiness, Wanna buy???
Amazed with the question right!!! But it's true we at My Holidays Craze want to sell you happiness through holidaying.
It would not be just simple holidays but a memorable trip which you had always dreamed for... We want to know your dreams and desires for travelling the world and wanna fulfill it in a way you want.
We are specialized in creating customized holidays for e.g.: if its Family trip then it comprises of combination of places as per the choice of your family members. If it's a youngsters group then it will a fun-filled, stunning n adventurous holidays. There is a fabulous collection of packages for each kind of travel needs. We arrange for all kinds of tours whether it's a study tour, Adventure tour, Honeymoon tour, Family tour, pilgrimage tour, historical tours, kids oriented tour or a group tour. It's about all travel needs under one roof. So please go ahead and choose the package you like from our website or if you wish to have something in more extravagant way then we will be more than happy to hear from you. So just get set go to plan for a memorable and rocking holidays with One & Only MY HOLIDAY CRAZE...!!!